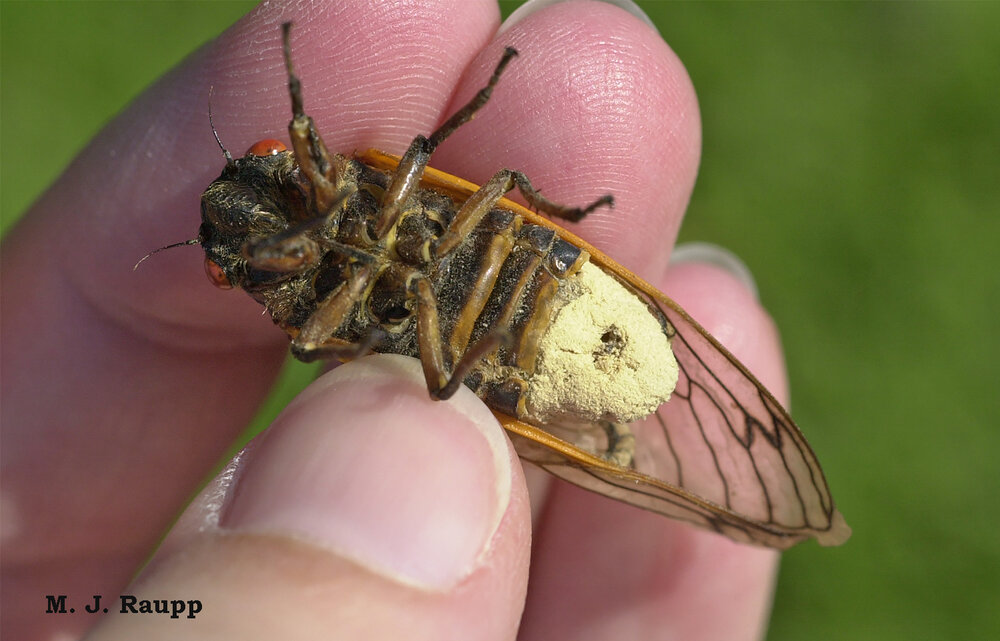 For a variety of reasons, Halloween is one of Bug of the Week's favorite holidays. In years past we have visited many bugs dressed in orange and black including monarch and Gulf fritillary butterflies, milkweed bugs, assassin bugs, and milkweed tiger moths not to mention several scary spiders like black widows, recluse spiders, and tarantulas. But what could be more fun and in sync in the year of the pandemic than a visit with some zombie insects? These are not the kind of Haitian voodoo zombies where a corpse is reanimated by a bokor to conduct some dastardly deeds. Nor are these the ilk of George Romero's zombies intent on consuming flesh of other insects, as in the Night of the Living Dead Insect. Nah, insect zombies are more akin to zombie apocalypse creatures, hapless victims of a mind-altering pathogen directing deadly actions to further the spread of its own kind. In a delightfully ghoulish paper, D. Donald Steinkraus and colleagues define zombie insects as "… insects infected with an entomopathogen or parasite that alters their behaviors and morphology in ways that benefit the pathogen or parasite." Boom, insect zombie apocalypse!
Crickets committing suicide
One amazing case of an insect zombie involves a European cricket called Nemobius and a horsehair worm called Paragordius. To breed, the horsehair worm must encounter its mate in water. However, the nematode's eggs are laid near riverbanks where they are often ingested by hosts in which they will develop, arthropods including Nemobius. Inside the cricket, the parasitic nematode grows to its full extent which may be more than 5 inches. To complete its life cycle, the parasite must return to water and here is where the zombification part of the story happens. By a mechanism not yet fully understood, the nematode takes control of the cricket's mind and alters its behavior, forcing the cricket to wander from its usual dank habitat into open, brighter areas until It encounters a body of water. The water body could be natural such as a stream or pond or human-made such as a swimming pool. The latter is where scientists documented a second bizarre behavior. Upon encountering the swimming pool, infected crickets took a "suicidal" leap into the water. By making the cricket take a plunge, the nematode can escape from its cricket host and seek a water-bound mate to complete its life cycle.
Ants take a drive from treetops and lock-jaws on leaves
Several species of fungi also play mind games with their insect hosts. Zombie ants often make splashes in the news. These unfortunate creatures were first described by famed naturalist Alfred Wallace more than a century and a half ago. Zombie ants are found in tropical forests on many continents and in temperate forests in South Carolina and Florida. Zombie ants are members of the genus Camponotus, commonly known as carpenter ants. The carpenter ant destined to be a zombie is arboreal, spending most of its time high in the canopy of a tree. Occasionally, to get from one tree to the next, it must descend to the earth where spores of the fungus Ophiocordyceps lie in wait. Upon contacting the surface of the ant, these spores awaken and bore into their host. As the ant ascends back into the treetop the fungus, which has now reached the brain, causes the ant to spasm and tumble to the ground. Like the slow moving, foot dragging ghouls in Romero's films, the fungus causes the zombie ant to seek a microhabitat with just the right conditions of temperature and humidity for the fungus to survive. Once the location is found, zombie ants ascend a plant and use their powerful jaws to lock onto the midvein of a leaf in a "death grip." Some 4 – 10 days later a fungal fruiting body erupts from the body of the dead ant and releases infective spores into the environment to await the next victim. Widespread infections by Ophiocordyceps sometimes produce massive graveyards of zombie ants.
A soldier beetle's last salute
Other species of fungi gain mind control over other insects including flies, beetles, and cicadas. Soldier beetles, a.k.a. leatherwings, are cousins of fireflies. Like other members of this clan, soldier beetles are natural born killers in both adult and juvenile stages and are highly beneficial insects to have around the garden. But it is not all fun and games for soldier beetles in the garden during cool moist seasons. A fungal pathogen called Eryniopsis lampyridarum lurks in the landscape waiting to infect soldier beetles. Once the beetle unwittingly picks up a spore from the landscape, the spore germinates and penetrates the exoskeleton of the hapless beetle. Inside the beetle it multiples and takes control of the beetle's nervous and muscular system, turning it into a zombie. The fungus causes the soldier beetle to march to the upper leaves of a plant in a behavior called summiting. There the beetle clamps onto a leaf with its jaws and dies. Spore producing structures within the cadaver cause the beetle's abdomen to swell and in a grisly final act, the wings of the beetles open to expose the swollen abdomen, a final postmortem salute. This allows fruiting bodies to erupt from the upper surface of the beetle and spew their spores into the environment, where they disperse and infect other victims.
When normally active soldier beetles become infected with Eryniopsis, they do a zombie walk to the tips of leaves, grab onto leaves with their jaws, and die. After death, the fungus within causes their wings to spread, facilitating the release of spores into the environment.
Dead flies deceiving hapless suitors
Cool, wet springs also spawn legions of seedcorn maggots, a pest of many horticultural and food crops including soybeans, corn, peas, onions, potatoes and beans. As temperatures warm, peril awaits adult seedcorn maggot flies. Hiding on the springtime vegetation are infective spores of a fungus called Entomophthora muscae. When the fly alights on vegetation, unseen spores attach to the surface of its exoskeleton. When the right combination of temperature and humidity conspire, spores hatch and fungal hyphae penetrate the skin of the fly, establishing a lethal infection. Once inside its host, the fungus invades the fly's tiny mind and body transforming it into a fly zombie. By taking control of the fly's nervous system, Entomophthora causes the doomed, but inherently fidgety fly to move ever more slowly upward and outward on a plant until it creeps to its final resting spot at the tip of a leaf or branch. From this elevated perch, the fungus erupts from the skin of the fly and spews spores into the air, all the better to distribute its spawn on vegetation where other flies will inadvertently become infected. In a related species of fly, the common house fly, Musca domestica, another strange twist happens in this zombie insect tale. The fungus infection causes the abdomen of a fly to swell dramatically. This large abdomen is highly attractive to male houseflies seeking a mate. Large abdomens may be an indicator of higher fecundity in a potential mate and, yes, just like Sir Mix A Lot, male houseflies like big butts. Causing the abdomen to swell may increase the chances of attracting a randy suitor that will become infected, further helping the fungus to multiply and disperse.
Male cicadas get in touch with their feminine side
One of the strangest twists in the zombie insect genre is set to take place in millions of backyards next spring with the return of the Big Brood, Brood X periodical cicadas. Beneath trees where cicadas spend their youth sipping sap, spores of the fungal pathogen Massospora cicadina have been waiting for 17 years. During April and May as cicada nymphs escape from the earth, resting spores of Massospora adhere to their exoskeletons. Compounds on the surface of the cicada send a signal to the spores that dinner is served and it is time to germinate. The fungus penetrates the skin of the cicada and multiplies, turning the cicada into a fungus garden. Spores of Massospora are then released into the environment where a second, more sinister wave of infection takes place. At this stage of their cycle, thousands of newly molted adult cicadas populate the landscape to begin their courtship rituals. Ubiquitous spores of the fungus spewed from the nymphs adhere to the skin of adult cicadas, germinate, and begin to infect the airborne legions. The infection sterilizes both male and female cicadas, but does nothing to quell the libido of sex-crazed male cicadas. Infected males continue to seek and attempt to mate with females despite their contagious infection. In a game of tit for tat, female cicadas infected with Massospora remain attractive to healthy males that soon become infected and then mate with other cicadas. If this was not weird enough, Massospora twists the minds of infected male cicadas. Male cicadas adopt female courtship behaviors including a coy wing flick, the female's signal that she is ready to accept a mate. This results in hyper-sexed uninfected males attempting to mate with infected drag queen males, further enhancing the spread of Massospora. Massospora becomes a cicada STD as it moves from one cicada to another by the behavior modifying process called Active Host Transmission or AHT. As the fungus develops within its host the abdomen of the cicada disintegrates, leaving behind a buff-colored mass of fungus. Infected cicadas are flight capable and their peregrinations carry the fungus to new habitats as they fly about. A second wave of infections produce resting spores that inoculate the soil with Massospora that will await the return of the cicadas in 17 years. While the loss of an abdomen spells instant death for a human, this is not the case for a cicada. Throughout cicada land male and female Massospora zombies walk and fly about missing their abdomens, macabre reminders of a very clever fungus.
As cicada nymphs emerge from their galleries next spring, Massospora spores lurking in the soil for 17 years will germinate on their exoskeleton, bore their way in, and multiply within the cicadas. Soon the cicada's abdomen will disintegrate, enabling fungal fruiting bodies to disperse spores. Sterile but still randy males spread Massospora to other cicadas in futile mating attempts. In a mind control coup, infected male cicadas mimic female courtship behaviors that entice uninfected males to mate with them, further accelerating the active transmission of Massospora in the cicada population.
Bug of the Week hopes you have a happy and safe Halloween without any worms or fungi trying to make you a zombie unless, of course, you wish to be one.
Acknowledgements
Bug of the Week thanks Bronwyn Mitchell-Strong for providing the inspiration for this episode and for affording the opportunity to share insect zombie stories with the Natural History Society of Maryland. Many thanks to Dr. David P. Hughes for sharing his gruesome image of an ant infected with Ophiocordyceps. The following fascinating studies were consulted in preparation for this episode: "Do hairworms (Nematomorpha) manipulate the water seeking behaviour of their terrestrial hosts?" by F. Thomas, A. Schmidt-Rhaesa, G. Martin, C. Manu, P. Durand & F. Renaud; "Water-seeking behavior in worm-infected crickets and reversibility of parasitic manipulation" by Fleur Ponton, Fernando Otálora-Luna, Thierry Lefèvre, Patrick M. Guerin, Camille Lebarbenchon, David Duneau, David G. Biron, and Frédéric Thomas; "Zombie soldier beetles: Epizootics in the goldenrod soldier beetle, Chauliognathus pensylvanicus (Coleoptera: Cantharidae) caused by Eryniopsis lampyridarum (Entomophthoromycotina: Entomophthoraceae)" by Donald C. Steinkraus, Ann E. Hajek, and Jim K. Liebherr; "A fungus infecting domestic flies manipulates sexual behaviour of its host" by Anders Pape Møller; "Behavioral betrayal: How select fungal parasites enlist living insects to do their bidding" by Brian Lovett, Angie Macias, Jason E. Stajich, John Cooley, Jørgen Eilenberg, Henrik H. de Fine Licht, and Matt T. Kasson; and "A specialized fungal parasite (Massospora cicadina) hijacks the sexual signals of periodical cicadas (Hemiptera: Cicadidae: Magicicada)" by John R. Cooley, David C. Marshall Kathy B. R. Hill.
This post appeared first on Bug of the Week