Just before Thanksgiving kicks off the holiday season, scads of questions show up in my mailbox about hordes of tiny flies buzzing around fruit bowls, kitchen sinks, and counters tops. They seem to appear from nowhere and lend credence to Aristotle's notion of spontaneous generation, the theory that living organisms like flies somehow originate spontaneously from non-living or putrefying things. To help untangle this mystery, consider the change of seasons. Late autumn in the DMV and many other parts of our land is characterized by cool damp weather. Moist evenings and mornings punctuated by warmish days are nearly ideal for decomposing tons of leaves, fruits, and other vegetable matter, the accumulated bounty of Mother Nature's efforts during spring and summer. This week of Thanksgiving, my compost pile is a writhing mass of invertebrates intent on converting vegetable protein into animal biomass as quickly as possible. On warm days, a cloud of fruit flies hovers over my compost and some of these winged raiders undoubtedly infiltrate my home when doors open.
Like many kitchens, mine is home to a bowl of fruit that occasionally contains one item gone a little squidgy. Yeasty odors of acetic acid and ethanol emanating from an over-ripe banana serve as powerful attractants for fruit flies. After arriving at a slightly brown banana, the female fruit fly deposits eggs. Each gal lays roughly 500 eggs during the course of her life time. Small translucent larvae hatch from the eggs. They glide through the overripe fruit slurping-up nutritious fermenting fluids as they develop and grow. With warm ambient temperatures, fruit flies can complete a generation in less than two weeks. With their capacity for reproduction, populations around the fruit bowl can explode seemingly overnight. One careless week, I neglected to empty the stainless steel compost bin on my kitchen counter and I was rewarded with several hundred fruit fly maggots happily growing in the bin. Yikes!
Fruit flies can also enter home as stowaways with overripe fruits or vegetables from the market or garden. These goods may arrive preloaded with a complement of eggs or tiny larvae. To reduce chances of bringing home an infestation, inspect your produce carefully and wash fruits or vegetables before you set them out in a bowl. If fruit is unrefrigerated and displayed in a bowl, check it out regularly and toss over-the-hill items before they generate flies. Fruit flies often breed in sink or floor drains, garbage pails, or recycling containers in homes, restaurants, and offices where decomposing organic material accumulates. Inspect these areas regularly, clean up spills, and disinfect surfaces. For the cloud of fruit flies wafting around your home, consider building a vinegar trap to catch and kill these noisome rascals. Traps can be purchased commercially and several trap designs are available on the internet. My do-it-yourself vinegar trap consists of an 8 oz. clear plastic tumbler filled with 4 oz. of apple cider vinegar or wine vinegar and a few drops of dish detergent. Within 24 hours of placing the trap on the counter, more than 100 fruit flies were lured to their death. One clever modification of the trap includes fastening a bit of plastic wrap over the lid of the vessel with rubber bands a poking a few holes in the plastic. Apparently, this allows fruit flies to enter but confounds attempts to escape should they change their tiny minds about a vinegary death by drowning.
More than just an indoor nuisance, several invasive species of fruit flies have now established in our region. The spotted-wing drosophila, Drosophila suzukii, first detected in the US in 2008 in California, has now spread from coast to coast and border to border. It is a major pest of strawberries, blueberries, raspberries, black berries, and cherries, and crop losses in the United Sates alone are estimated to exceed hundreds of millions of dollars annually. If spotted-wing drosophila was not enough, a second dastardly fruit fly, the African fig fly, Zaprionus indianus, first detected in Florida in 2005, has now spread to the Canadian border and can also be found here in the DMV. African fig flies infest a broad range of plants, including berry crops as well as figs, grapes, and cherries. Unlike spotted-wing drosophila, female African fig flies generally cannot cut through intact fruit skin to lay eggs; they instead are thought to oviposit (deposit eggs) into or near pre-existing cracks and wounds. In some varieties of grapes, the African fig fly may actually out-compete its Asian relative, the spotted-wing drosophila.
African fig fly is an invasive fruit fly species that was first detected in the United States in 2005 and has since established in Maryland. Adults can be identified by the white and black stripes running longitudinally down their back. While spotting an adult is easy, spotting a larva swimming in a raspberry is a bit harder and somewhat disconcerting if the raspberry is in your cereal. Video credit: Maggie Lewis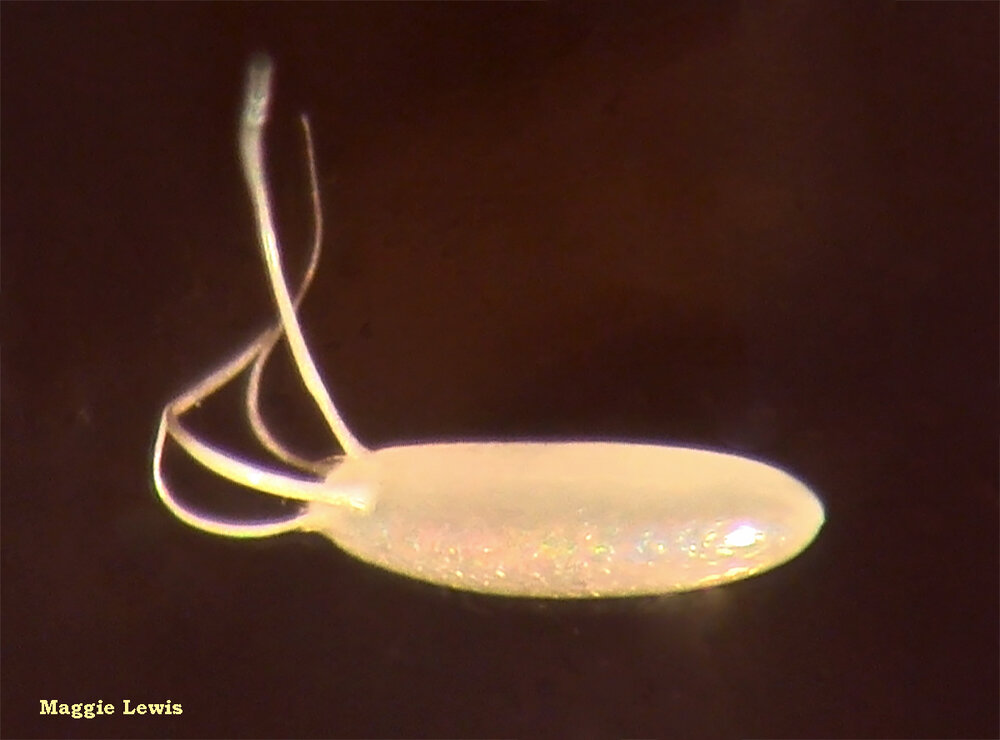 Ah, but fruit flies are not all bad. The most famous fruit fly of all is, of course, Drosophila melanogaster. This tiny workhorse of scientific studies, a hero many of us met for the first time in high school biology, brought the 1933 Nobel Prize in Physiology or Medicine to Thomas Hunt Morgan for his pioneering work on mechanisms of heredity and the location of genes on chromosomes. Fruit flies have ventured to the International Space Station to help scientists study the effects of zero gravity on cardiac function and immune responses to disease. Closer to home and in my compost bin, they provide a vital ecological service by unlocking nutrients tied up in vegetable waste and returning these nutrients to food webs. So for good or bad, hail the tiny but mighty fruit fly.
On this unprecedented Thanksgiving in the time of COVID-19, Bug of the Week wishes you a happy one. Be sure to share some of your unwanted vegetables with ever-grateful fruit flies in your compost!
References
The wonderful video, images, and ideas for this week's episode were created by doctoral candidate Maggie Lewis of the Department of Entomology, University of Maryland, College Park. We thank Ingalisa and Sahar Schrobsdorff for providing inspiration for this story and sharing an image of their clever fruit fly trap. The interesting references "Trapping spotted wing drosophila, Drosophila suzukii (Matsumura) (Diptera: Drosophilidae), with combinations of vinegar and wine, and acetic acid and ethanol" by P. J. Landolt, T. Adams, and H. Rogg, "Spotted Wing Drosophila: Potential Economic Impact of a Newly Established Pest" by M. Bolda, R. Goodhue, and F. Zalom, "Effects of Interspecific Larval Competition on Developmental Parameters in Nutrient Sources Between Drosophila suzukii (Diptera: Drosophilidae) and Zaprionus indianus" by M. Edana Shrader, H. J. Burrack, and D. G. Pfeiffer, and "Flies, gnats, and midges" by W. A. Kolbe in "The Handbook of Pest Control" were used in preparing this Bug of the Week. To learn more about the African fig fly, please visit the following website: https://academic.oup.com/jipm/article/10/1/20/5514212#136729274
This post appeared first on Bug of the Week