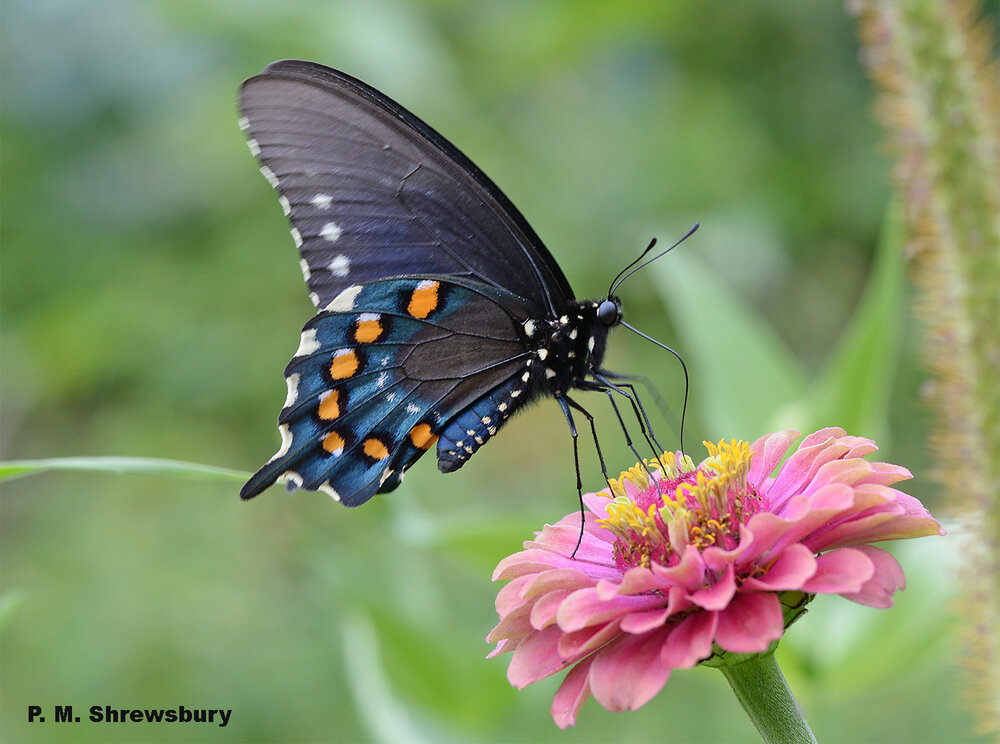 Color and pattern of the gorgeous pipevine swallowtail warn predators of a nasty meal should they dare to attack. Image credit: Dr. Paula M. Shrewsbury
In recent years Bug of the Week has visited several beautiful butterflies whose dominant wing coloration is based on the theme of a black background with series of patches and spots in shades of white, orange, and blue. Butterflies participating in this cabal include the dark female form of the eastern tiger swallowtail, the pretty red-spotted purple, the eastern black swallowtail –eater of parsley and dill – and the clever spice bush swallowtail, whose larvae mimic serpents. Why have all of these beauties converged on a relatively common color scheme?
Dutchman's pipe is a favored host for Polydamas caterpillars. Eggs deposited on a growing tip will later hatch into very hungry caterpillars.
Caterpillars of the butterflies that we meet today, the pipevine swallowtail and the Polydamas swallowtail, dine on plants in the birthwort family, Aristolochiaceae, that include vines commonly known as pipevines. Members of this family produce a class of compounds known as aristolochic acids which are known to be mutagenic, carcinogenic, and toxic to kidneys of mammals. As they consume leaves of pipevine, these swallowtail caterpillars store these toxins and in turn pass them along to the adult butterflies and also to their eggs. Aristolochic acids sequestered by caterpillars may help protect them from attack by parasitic wasps. Adult butterflies are rendered distasteful to vertebrate predators such as birds by virtue of these noxious compounds. It is believed that birds attempting to eat butterflies whose larvae consumed pipevines have a nasty experience that teaches them not to mess with darkly colored butterflies. Other species of butterflies capitalized on the lesson taught by the pipevine and Polydamas butterflies by evolving color patterns to mimic their appearance, thereby gaining protection from visually astute predators. This type of mimicry, in which warning colors of a distasteful species like these swallowtails act as a model copied by other palatable butterflies, is called Batesian mimicry. The great English naturalist Henry Bates first described this form of mimicry while studying butterflies in Brazilian rainforests.
This gorgeous resting pipevine swallowtail will soon seek pipevines on which to deposit brightly colored orange eggs that hatch into tiny caterpillars. As the caterpillars feed and grow, they accumulate noxious compounds and take on a startling visage, complete with fleshy dangling appendages and orange bumps advertising their distastefulness. Video credit: Dr. P. M. Shrewsbury
We met other species of Batesian mimics, such as harmless flower flies that mimic stinging bees and stilt-legged flies that mimic wasps. And adult butterflies are not the only creatures that mimic pipevine swallowtails. Recall that the caterpillars of these swallowtails are also laced with aristolochic acids. Scientists believe that a cyanide producing millipede with deep red coloration mimics the color and pattern of the pipevine caterpillar, thereby gaining protection from predators. We have also seen this mimicry before with several orange and black insects that eat milkweed, including monarch caterpillars, milkweed bugs, and milkweed tussock moth caterpillars. This convergence on a similar, easily recognizable color pattern by two or more nasty-tasting insects is called Müllerian mimicry, named for the famous German naturalist Fritz Müller.
As this spectacular butterfly season comes to an end, try to grab one last glimpse of one of these dark winged beauties and ponder the question – model or mimic?
Acknowledgements
Bug of the Week thanks observant Dr. Shrewsbury for spotting adults and larvae of the pipevine swallowtail and providing the image and a video featured in this episode. "Secret weapons" by Thomas Eisner, Maria Eisner, and Melody Siegler, and the Featured Creature articles "Common name: pipevine swallowtail, blue swallowtail scientific name: Battus philenor (Linnaeus 1771) (Insecta: Lepidoptera: Papilionidae: Papilioninae: Troidini)" and "Common name: Polydamas swallowtail, gold rim swallowtail, tailless swallowtail scientific name: Battus polydamas lucayus (Rothschild & Jordan) (Insecta: Lepidoptera: Papilionidae: Papilioninae: Troidini)" by Donald Hall provided valuable insights into the clever ways of this week's stars.
This post appeared first on Bug of the Week